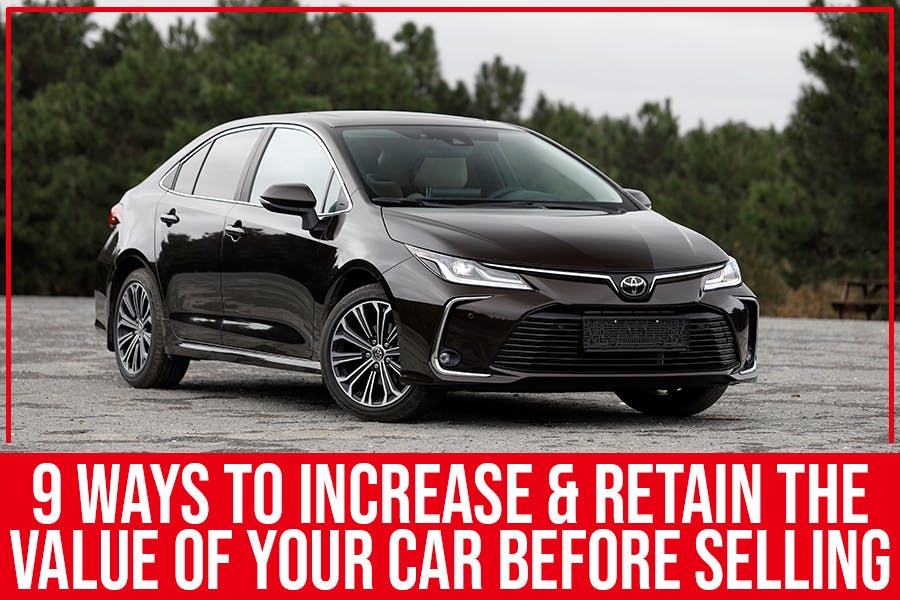 9 Ways to Increase & Retain the Value of Your Car Before Selling
Key takeaways:
Keep your car clean, both inside and out. A well-maintained car will always fetch a higher price than one that looks like it's been through the wringer.

Repair any worn-out car seats, revive the steering wheel, and maintain the car's fluid levels. These simple fixes will make your car look and feel like new again.

Repair any scuffs, scrapes, or dents on the body of your car.

Find all of your car's paperwork and try to keep the mileage low on your vehicle. The fewer miles it has, the higher its value will be.

Get regular service for your car and inspect, clean, and replace the tires as needed. This will demonstrate to potential buyers how well-kept your automobile is and how well-maintained it is.
Before you decide to sell your car, there are several things you can do to increase its worth.
The instant a brand-new automobile is driven away from the showroom, it loses 11% of its value. After then, the car's value might drop by 15% to 25% annually over the following five years. As a result, you must take every possible step to raise your car's resale value.
Although depreciation is inevitable, this does not obligate you to sell your vehicle for the lowest possible value. Like cleaning up your home before selling it, giving your automobile some care will significantly increase its value. In this blog post, Sun Toyota will go over some of the best ways to do just that!
Way 01: Keep It Clean
A vehicle reflects its owner. If your car is cluttered with fast-food wrappers, old coffee cups, and clothes, potential buyers will assume you as someone who doesn't care about taking care of their property. A messy car also implies that the engine has not been taken care of.
Before you show your car to any buyers, give it a good cleaning. This means both the inside and outside of the vehicle. There are always skilled detailers who can complete the task for you at a reasonable price if you don't have the time to do it yourself.
Way 02: Repair Worn Car Seats
Car seats take a lot of wear and tear, especially if you have young children. Potential buyers will look at your car seats and consider how much money they'll have to spend to replace them.
If your car seats are starting to show signs of wear, there are a few things you can do to repair them. First, try using a fabric cleaner to see if that does the trick. If not, you can always try reupholstering them yourself or hiring a professional.
Way 03: Revive the Steering Wheel
Like car seats, steering wheels also take a lot of abuse. They can become stained and cracked over time, which doesn't make a good impression.
There are a few ways you can revive your steering wheel. First, you can try cleaning it with a leather cleaner. If that doesn't work, you can always try sanding it down and repainting it. You could also replace the entire steering wheel if it's too far gone.
Way 04: Maintain the Car's Fluid
Maintaining your car's fluids is critical. This includes oil, coolant, and brake fluid. Car oil is essential because it keeps your engine running smoothly. Coolant helps to keep your car from overheating, and brake fluid ensures that your brakes are working correctly.
You should check your car's fluids every few months to ensure they're at the correct levels. You should also have them flushed and replaced according to your car's maintenance schedule.
Way 05: Repair Any Scuffs, Scrapes, Or Dents
Another way to increase the value of your car is to repair any cosmetic damage. This includes anything from scratches and scuffs to dents and dings. With a touch-up kit or a little elbow grease, you might be able to remedy minor damage on your own. You'll probably need to bring your automobile to a body shop for more severe damage.
Way 06: Find Your Paperwork
Before selling your automobile, you'll need to find and gather all the necessary documents. This includes things like your registration, title, and insurance information. You should also have a maintenance log or history of all the work that's been done on your car. This can help potential buyers feel confident that they're getting a reliable vehicle.
If you don't have all the paperwork, don't worry - you can usually get it from your local DMV or auto dealership.
Way 07: Keep Mileage Low
Maintaining a low mileage is among the best ways to increase your vehicle's value. This is especially true for luxury or sports cars driven less often. If you have a long route, consider taking public transportation or carpooling a few days a week to keep your car's mileage down.
Way 08: Inspect, Clean, And Replace Tires
Another easy way to increase your car's value is to ensure the tires are in good condition. Inspect the treads for any damage. If they look worn, it's a good idea to get them replaced before you sell your car. You should also clean the tires - both the rims and the tires themselves. A good wash will make them look new and increase the value of your car.
Way 09: Get Service for Your Car
If you're selling a used car, it's essential to get it serviced before you sell it. This will increase the value of your car because potential buyers will see that it's been well-maintained. Plus, they'll be more likely to buy a car serviced recently. So, make sure you get your car serviced before you sell it!
Ending Note:
These are just a few techniques you may use to boost your car's worth before selling it. You can use these suggestions to ensure you're obtaining the maximum money for your automobile.
Visit Sun Toyota serving Dunedin, FL, for all your automotive needs.
We provide all the essential services like oil changes, vehicle alignment, tire replacement, and much more. You don't need to worry when your vehicle is in the care of our Sun Toyota Service Center staff since they use the most recent automotive technologies and do thorough inspections.
Key Takeaways –
Car leasing is similar to renting a car for a specified duration

Car financing means buying a car using financial assistance

Leasing usually involves lower upfront payments

Purchase from car financing comes with lower upfront costs and lower monthly payments.

The decision to finance or lease a car depends solely on your financial standing.
Back to Parent Page