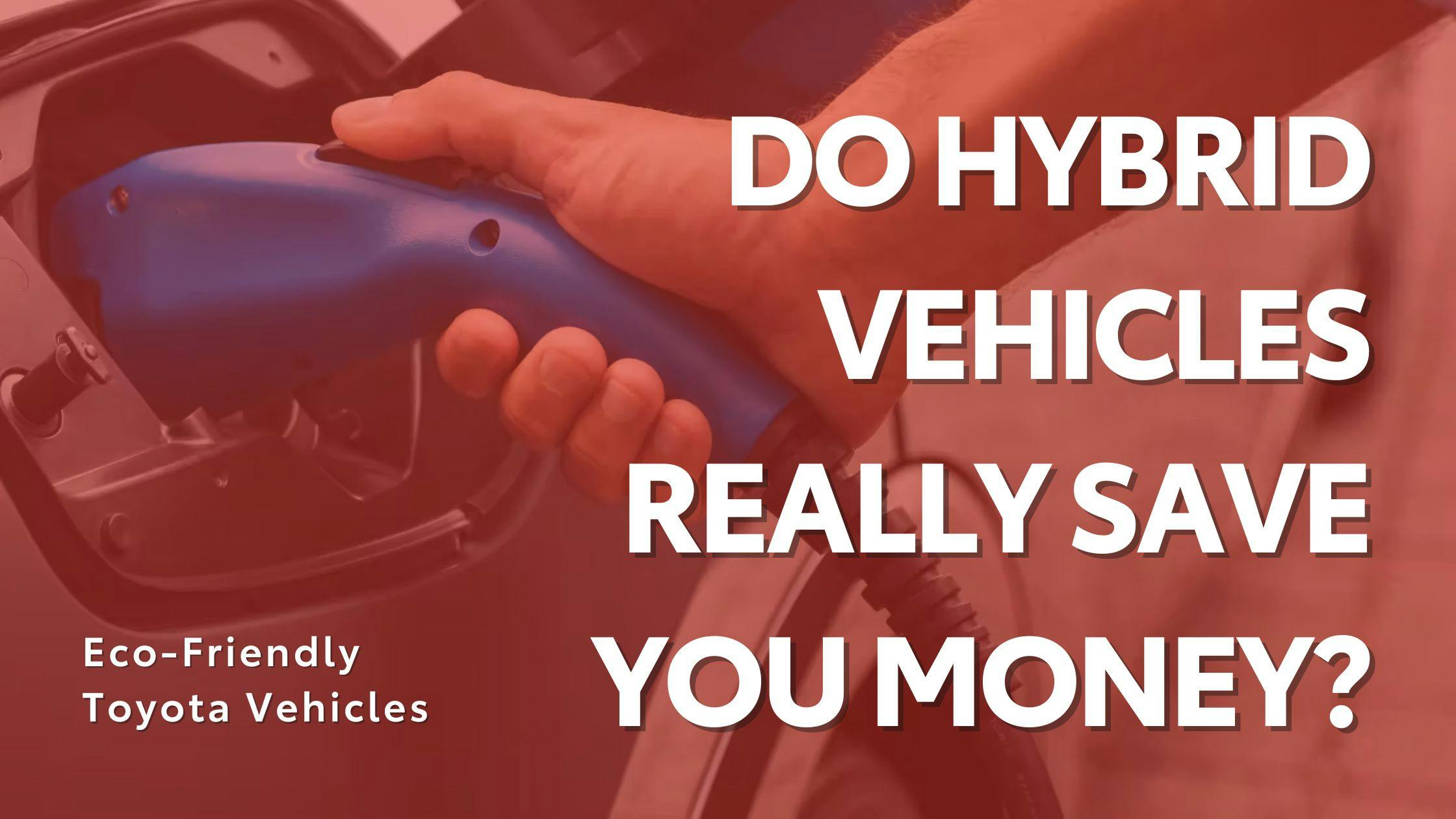 Toyota Hybrid Vehicles in Holiday, Florida
A few years ago, one of Sun Toyota's managers, proposed to build a certified green facility that would save energy and protect the Earth. Not only is our Holiday car dealership LEED Certified, but we also carry an inventory of new Hybrid Toyota vehicles in the Tampa, Clearwater, and surrounding Florida areas!
Test drive the new Camry Hybrid, or Corolla Hybrid in Holiday.
Toyota knows that building a green dealership was the right thing to do for the environment and for the surrounding Florida communities.
New Toyota Hybrid Vehicles Benefit the Environment AND Your Wallet!
Reducing emissions:
Hybrid vehicles use both a gasoline engine and an electric motor to power the vehicle, which can significantly reduce emissions of pollutants like carbon monoxide and nitrogen oxides.
Improving fuel efficiency:
Hybrid vehicles can get better gas mileage than traditional gas-only vehicles, which can lead to less fuel consumption and fewer emissions overall. In addition, it allows drivers to save money that would normally be spent on filling up their tanks!
Lowering dependence on fossil fuels:
Hybrid vehicles can run on electricity, which is a cleaner and renewable energy source as compared to fossil fuels, this can reduce the dependence on fossil fuels and decrease the greenhouse gases emissions.
Reducing air pollution:
Air pollution can have negative effects on human health and the environment, by reducing emissions, hybrid vehicles can help to improve air quality.
Lowering noise pollution:
Electric motors in hybrid vehicles are much quieter than traditional gasoline engines, this can reduce noise pollution, particularly in close communities such as our own near Tampa, Clearwater, and Port Richey!
Our Toyota Dealership Gives Back to Our Florida Community
Caring For Our Community and Eco-System
The sentiment to protect the environment is spreading throughout Holiday, FL. Students at the nearby Gulf Trace Elementary benefit through their proximity to Sun Toyota. Plus, the school is able to use a hands-on approach to teach children about maintaining their own health and the health of the environment.
Sun Toyota also participates in other areas of service within the community, donating green vehicles like the Toyota Prius to organizations like Hope Children's Home of Tampa.
Did You Know our Toyota Dealership is LEED Certified?
Sun Toyota took more than 100 steps to update the design, construction, and operations for approval as a green site. When you visit Sun Toyota, you'll see modifications like:
Solar Panels — On weekends, they provide more electricity than can actually be used!
Car Wash — It's highly-efficient at cleaning and 90% of the water is recycled.
No Paper Trail — Contracts and other documents that are typically paper business records are entered into a computer instead.
Windows — Heat-resistant glass keeps Florida's high temperatures outside rather than heating up a room that needs to be cooled.
Service Café — Sun Toyota serves Starbucks, a company known for its energy-conservation efforts.
Lighting — Environmentally-friendly lighting is used throughout the dealership, including LED lights over the car lots.
Service Fluids — Oil and other fluids are carefully collected and recycled.
No Smoking — Smoking was not prohibited on the premises during the construction of Sun Toyota.
Furniture & Cabinetry — All furnishings and cabinets at Sun Toyota are made from sustainable sources.
An Environmentally Responsible Lake — A lined lake on the property serves as an environmentally-safe retention pond.
Construction Debris — 95% of leftover materials were separated for reuse or recycling.
Flooring — Linoleum flooring was made from sawdust.
Cisterns — Hold rain and condensation that's stored and later used for irrigation.
Landscape — Only native and low-water shrubs and trees were planted.
Concrete — Recycled concrete was used and include a high level of insulation to keep cooled air in and heat out.
Asphalt — Parking areas were paved with asphalt made of recycled materials.
Toilets — Low-flush versions were installed and water use is monitored.
Save Time, Money, Gas, and the Environment When You Go Green!
At Sun Toyota, we're committed to protecting the environment for years to come. And we consider our dealership to be our home. That's why we invested in our building to obtain a Leadership in Energy and Environmental Design (LEED) green building certification. Visit us today for a test drive and ask us about the eco-friendly changes we've made.
Back to Parent Page